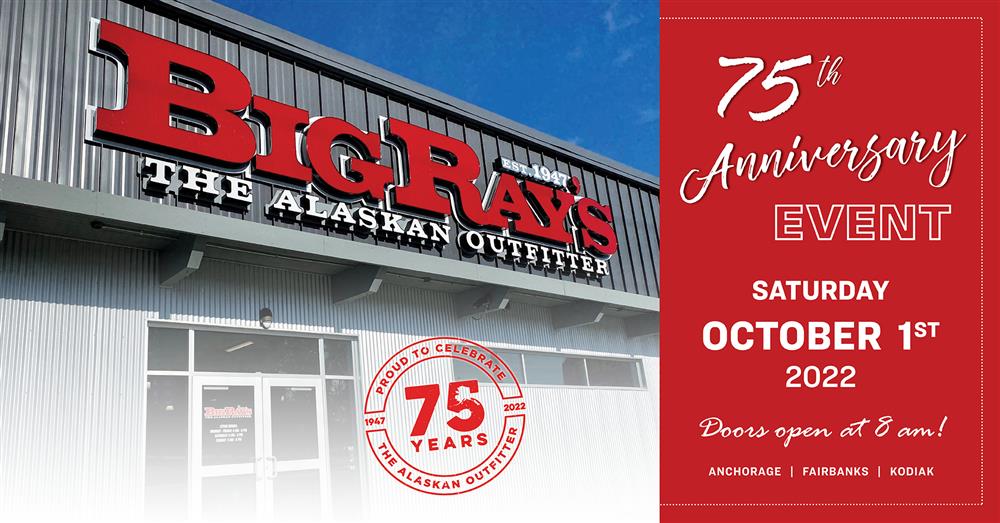 75th Anniversary Celebration!
SATURDAY, OCTOBER 1st
Doors open at 8 am!
ANCHORAGE: 3200 Seward Highway & 320 W. 4th Ave.
FAIRBANKS: 507 2nd Avenue & 3230 Airport Way
KODIAK: 212 Lower Mill Bay Road
This year, 2022, marks the 75th Anniversary since we first opened in 1947. We're excited to celebrate this milestone at our 75th Anniversary Event!
Join us to celebrate at all of our store locations on Saturday, October 1st!
We'll have surprise giveaways, door prizes, food trucks, custom cookies and refreshments, local vendors & booths, Carhartt seamstresses sewing custom patches on-site, pack fitting with Mystery Ranch experts, and much much more!
FIRST 100 ADULT CUSTOMERS THROUGH THE DOOR (at the store locations listed below) GET A FREE SURPRISE GIVEAWAY BAG VALUED UP TO $200!!
(Anchorage midtown, Fairbanks downtown, and Kodiak)
Plus, we're giving away an exclusive pair of custom XTRATUF boots hand-painted by local artist Rhonda Scott in Anchorage, Fairbanks, and Kodiak.
---- EVENT FESTIVITIES BY LOCATION ----
Custom, hand-painted Xtratuf boots by Rhonda Scott Giveaway!
(Anchorage midtown, Fairbanks downtown, and Kodiak)
Local Coffee & 75th Anniversary cookies & refreshments!
(All store locations)
Carhartt seamstresses on-site sewing custom Carhartt+Alaska patches on any Carhartt item purchased.
Local Alaska Booths
Wild Scoops Ice Cream - Anchorage midtown
Fishe Wear - Anchorage midtown & Kodiak
Heather's Choice - Anchorage midtown
Mystery Ranch Pack Fitting & Hunting Giveaway - Kodiak
Carhartt Shopping Spree Giveaway - Fairbanks downtown
- Alaska Coffee Company (Anchorage midtown), Glacier Grind Coffee (Fairbanks locations), Midnight Sun Coffee (Anchorage downtown), Harborside Coffee (Kodiak).
- Food Trucks
- Columbia Surprise Giveaway (All Store Locations)
AND SO MUCH MORE!!
---
2022 BIG BUCK CONTEST
RULES & REGULATIONS
PRE-REGISTRATION: You must pre-register at Big Ray's prior to hunting and present a valid Alaska hunting license and deer harvest tickets at the time of registration. There will be no exceptions made. There is no registration fee.
TIME FRAME: Only bucks taken between August 1, 2022 and December 15, 2022 will be considered eligible for the contest.
BOUNDARIES: Any buck taken in Game Management Unit 8, as defined by the 2022-2023 State of Alaska Hunting Regulations, will be eligible for entry into the contest.
ENTRIES & SCORING: Antler entries will be accepted between August 1, 2022 and December 15, 2022. Only one set of antlers, per contestant, may be entered. Any other contest(s) entered with the same antlers automatically disqualifies the contestant from this contest. Big Ray's will conduct the scoring at their convenience, based on Safari Club International Method 18T scoring standards after the close of the contest. Non-typical racks maybe entered but only typical tines will count in the score. Antlers will only be scored if left with Big Ray's for contest purposes. No antlers will be measured in the velvet. Antlers will be accepted for scoring only when the skullcap is cleaned of all hide, hair, eyes, brain, and blood. Scoring is based on SCI standards but does not constitute an official SCI Score. The judging decision of Big Ray's will be final.
PRIZES: Prizes will be awarded in several categories. Prize winning categories include:
BIG BUCK: The highest scoring antlers based on Safari Club International standards, Method 18T. The winner of this prize will not be eligible for the LUCKY BUCK.
2ND THROUGH 10TH PLACE: Determined accordingly based on score.

LUCKY BUCK (RANDOM DRAWING PRIZE): Determined by a random drawing of all racks entered.

LITTLE BUCK: The lowest scoring antlers based on Safari Club International standards, Method 18T.
WINNERS WILL BE ANNOUNCED WHEN FINAL SCORING IS COMPLETED - JANUARY 2023.
---